Got a call on Thursday night from a stranger who had gotten my number from a friend. A hawk had caught a pigeon in a neighbors yard and was subsequently attacked by their dog. They thought the hawk had disappeared but later that night their daughter found it being cornered by a couple cats so they threw a towel over and took it inside. They kept it in various "containers" for a couple days and then it ended up in a rabbit hutch. They'd had it two weeks, feeding it whole pigeons (and a pheasant at one point) every other day, before they got my number. They said it had a few broken tail feathers, it's right wing was drooping a little, and it had broken off a talon in the rabbit hutch. It was described as being an immature red-tail.
I drove over Friday after work, hooded her up, let the family take a few 'goodbye' photos, and brought her home:
As suspected, female Coops (She weighed in at 352 after having not eaten for 3 days but she'd eaten a whole pigeon before that I wasn't too worried about her starving.):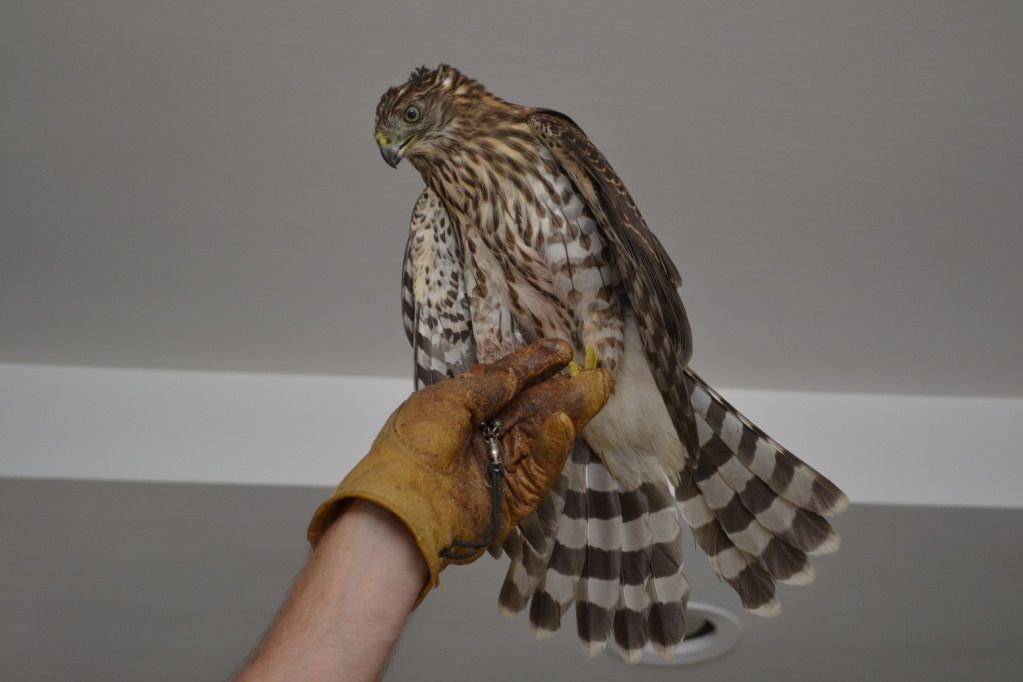 Relaxing quite quickly once we got home (Notice the right wing isn't drooping, that was encouraging)!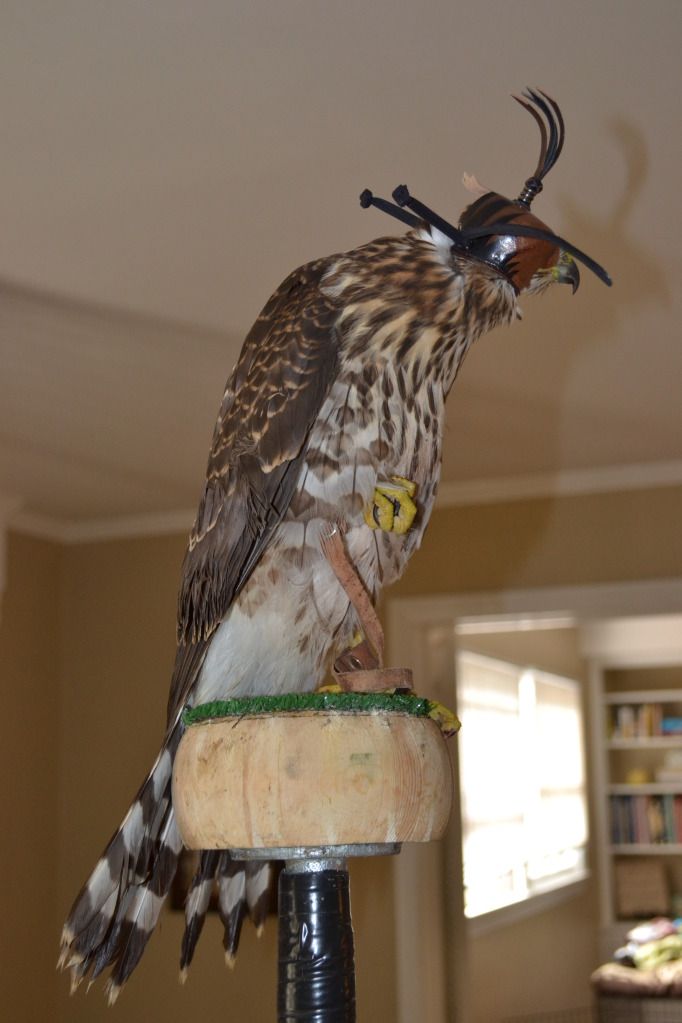 Broken talon (middle toe, left foot):
She was in surprisingly good condition. Her keel felt good. Her wing didn't seem to be drooping much if at all but her bates weren't too strong. She was missing 3 tail feathers and a few more were bent but I did the whole hot water treatment to straighten them and she looked decent afterwards even though she'll lose at least one more. The broken talon was the middle one on her left foot so that's a concern but I think she'll do fine. I handed her off to a reputable rehabber first thing Saturday morning.
Next week trapping season starts and I'm aiming for a female Coops. Hopefully the falconry gods will smile on me for giving this one a chance and bless me with an awesome bird then! Getting that small dose of a bird just got me that more ansy to get this season started!!!